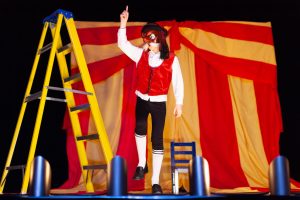 La MRC de Bonaventure est heureuse d'annoncer son premier appel de projets culturels
Suite à l'adoption de sa première politique culturelle en mai 2021, la MRC de Bonaventure lance maintenant un appel de projets culturels pour l'année 2021. L'appel comporte trois volets: interculturel ; enfants et jeunes ; livre, littérature et littératie. Selon le volet, une aide financière respective de 18 000$, 8 000$ et 10 000$ est disponible. Les projets peuvent être déposés jusqu'au 1er octobre 2021, alors que la réalisation des projets devra être complétée d'ici le 31 décembre 2022. Sont admissibles les organismes ayant des activités sur le territoire de la MRC de Bonaventure, les municipalités du territoire, le conseil de bande de Gesgapegiag, les artistes professionnel·les et en voie de professionnalisation, et les individus résidant sur le territoire.
Pour en savoir plus ou présenter un projet, consultez le Guide d'appel de projets et le formulaire de présentation en cliquant sur les boutons ci-dessous.
Vous pouvez également contacter Nathalie Martin, chargée de projet pour la culture à la MRC de Bonaventure, à l'adresse culture@mrcbonaventure.com ou encore au numéro suivant: 418 752-1492.
Appel à toutes et tous à participer au développement culturel de notre territoire
Outre l'appel de projets en cours, la MRC de Bonaventure planche également sur d'autres projets culturels, qu'elle portera elle-même ou qu'elle développera en partenariat avec d'autres organismes. Les personnes et les organisations intéressées à prendre part au développement culturel du territoire sont invitées à consulter notre plan d'action culturel et à contacter Nathalie Martin, qui est responsable de ce dossier.
Nous sommes vivement intéressés à travailler en collaboration avec le milieu culturel et la population. On peut participer de plusieurs façons à la démarche, par exemple en participant aux divers comités, en devenant porteur d'une action, en s'engageant comme bénévole ou tout simplement en faisant part de ses idées.
The Bonaventure MRC is happy to announce its first call for cultural projects
Following the adoption of its first cultural policy in May 2021, the Bonaventure MRC now launches its first call for cultural projects. The call has three components: intercultural; children and youth; books, literature and literacy. According to the component, amounts of respectively 18 000$, 8 000$ and 10 000$ are available. Projects can be submitted until the 1st of October 2021, and their realization must be completed by the 31st of December 2022. Organizations, municipalities, individual and artists residing on the territory of the Bonaventure MRC and the Gesgapegiag band council are eligible.
For more information or to present a project, you can consult the Call for Cultural Projects Guide and the Call for Cultural Projects Form by clicking on the buttons underneath.
You can also contact Nathalie Martin, cultural agent at the Bonaventure MRC at culture@mrcbonaventure.com, or by phone at the following number: 418 752-1492.
Everyone is invited to take part to the cultural development of our communities
Aside from the ongoing call for projects, the Bonaventure MRC is also working on other cultural projects, which it will realize in collaboration with local or regional partners.
Individuals and organizations interested in taking part to our cultural development effort are invited to consult our action plan and to contact Nathalie Martin. There are different ways one can contribute: by joining one of the committees, leading an action, volunteering, or simply by sharing one's ideas.